Description:
Join us for the presentation from Marcus Walfridson of the Sarasota Paradise Soccer Association.

Deadline to sign-up for the September Luncheon is 12:00 noon on September 15, 2023
NOTE: Do not expect to be accommodated if you miss the deadline as we must notify the venue of the final counts by 12:00 noon, September 15 - No exceptions!

SCAS Members: $40 Non-Members & Guests: $50 ($1 event fee added to online payments)
SPECIAL STUDENT PRICING & MEALS: $25 Please reserve your seat online or with Linda Mercurio directly. Her contact info is listed below.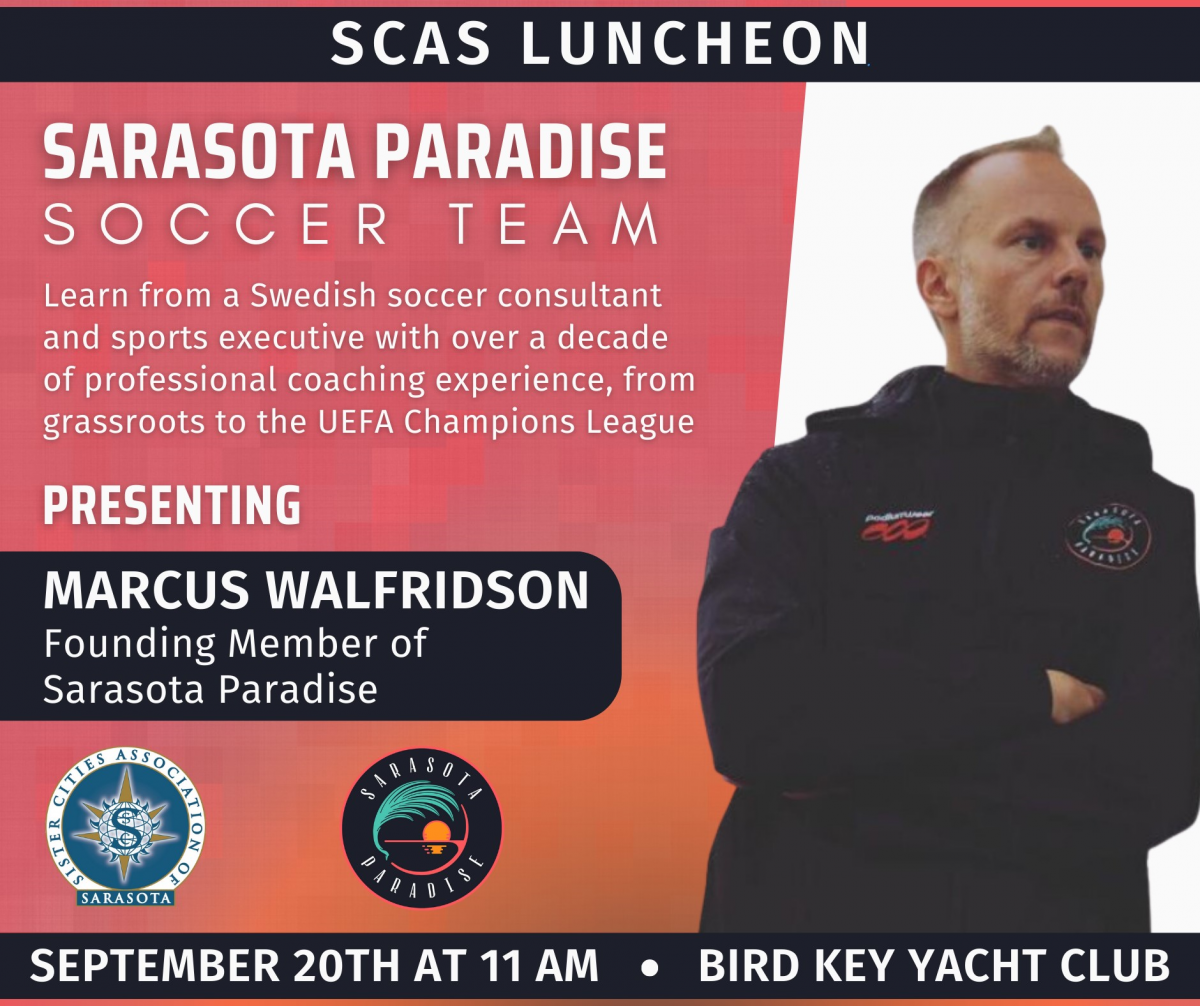 For more information, please contact the Events Director:
Linda Mercurio, lindascot5770@gmail.com or (941) 400-1156

Register below to pay online, or send your check payable to SCAS to:
Linda Mercurio,
5770 Deer Hollow Lane W.
Sarasota, FL 34232


Entrée
Pan seared chicken breast with creamy wild mushroom ragout
Vegetarian option: Eggplant tower with fresh mozzarella, basil and roasted tomato
Dessert: Florida Key Lime Tart, Chantilly cream, raspberry puree
All meals served with a dessert, fresh baked rolls, choice of iced tea, hot coffee and tea.
Adult beverages are available for purchase at the Registration desk.

** Special Student Meal price of $25 includes BKYC Burge and Fries with dessert. Please register/reserve student meals online or with Linda Mercurio.
Should you require a different vegetarian option or have other dietary needs, please call the venue directly, Bird Key Yacht Club, and ask to speak with Rachel Picot, Catering Director, to request a special meal.
Bird Key Yacht Club telephone: (941) 953-4455
COVID-19 Protocols
Per the latest CDC guidelines, people may choose to mask at any time. Attendees with COVID-19 symptoms, a positive test, or exposure to someone with COVID-19 should not attend. The following individuals are encouraged to wear a mask and maintain social distancing for their safety:
Anyone not up to date with their COVID-19 vaccines

People with weakened immune systems or underlying medical conditions
The safety of all our registrants and Luncheon attendees is of utmost importance to SCAS.
Please refrain from attending if you are experiencing COVID-19 symptoms or have been exposed to COVID-19 recently.
Risk of exposure to COVID-19 exists in any public space where people are present. By attending, you voluntarily assume all risks related to exposure to COVID-19.
SCAS takes the health and wellness of our community seriously.
For the current COVID-19 guidelines; please refer to guidance from government and public health authorities:
• Centers For Disease Control
• FL Department of Health
Please be safe and stay healthy – without you, we cannot fulfill our mission.
SCAS does not assume liability for COVID-19 infections or illness at our events.